We had a little bit of a break after the summer conference. Check out what we had to share through workshops and other sessions on our conference archive page.
We encourage you to share this report with colleagues.
Final Legislative Updates
Career Opportunities
Finance Officer/Director of General Administration – Wrightsville Beach (Closes Next Friday, 8/9)
Budget & Special Projects Manager – Town of Garner (Open Until Filled)
Financial Operations Manager – Town of Wake Forest (Open Until Filled)
State Budget Post Mortem
Click Here for NCLM's Summary of FY 13-15 Budget Provisions
Click Here for Summary of Tax Reform Legislation Implementation (Schedule)
Adopted Budget Extends Transitional Hold Harmless Another Year
(Karl Knapp) The General Assembly approved its final version of the State budget (SB 402 Appropriations Act of 2013) this week and sent it to the Governor, who signed it into law this afternoon. Thanks to the efforts of municipal officials and the General Assembly, the budget includes a one-year extension of the Transitional Hold Harmless payment, which expired in August 2012. The 2013 payment would be made in September, and would be calculated as in past years, but each local government would receive only one-half of the amount calculated. There will be no further extension of the Transitional Hold Harmless beyond 2013. The budget contains several other provisions affecting cities and towns, including changes to water and sewer funding and economic development support.
Highlights
(BEA) 2nd Quarter GDP grew at an annualized rate of 1.7%, higher than most forecasts and the revised 1st Quarter GDP growth rate of 1.1%. Click here to check out analysis summary from PNC Bank.
(BLS/Wells Fargo) US job growth for July (162,000) was short of analyst expectations, with the reported national unemployment rate (7.4%), reaching its lowest level since December 2008, also reflecting the impact of the job growth and a 37,000 reduction in labor force. Average weekly hours worked and hourly earnings declined slightly. Labor force participation dropped to 63.4%, remaining at a level significantly below levels achieved over the past 30 years. Full-time employment (35+ hours) grew by 92,000 in July, showing growth of 172,000 for 2013 so far, though still 1.06 million less than December 2008. Part-time employment has grown by approximately 700,000 since the start of 2013.
(BLS/Wells Fargo) While personal income grew 0.3% in June, personal spending grew 0.5%.The personal saving rate declined to 4.4%.
(BLS/NCESC) North Carolina's Unemployment Rate for June remained at 8.8%, despite the loss of 10,958 jobs compared to May (likely due to summer job shifts). Labor force also declined by 10,362. Had the labor force remained constant with May, the unemployment rate for June would have been 9.05%.
(NC Comptroller) May 2013 report showed FY12-13 tax revenues increasing 5.4% compared to last year. Personal income tax revenues are up 7.2% and corporate income taxes are up 6.3%, while state sales tax revenues are only up 0.3% for the year. Click here for the Comptroller's Monthly Report
(NCSU) Mike Walden's North Carolina Index of Leading Economic Indicators remained unchanged in June, though is still 2.7% compared to a year ago. Significant drops in construction activity (Building Permits) offset improvement in other areas (Unemployment Claims, work hours, employee earnings).
(WellsFargo) New orders grew 1.5% in June, nearly reaching the $500 billion mark and achieving an all-time high and marking continuation of levels over the past couple months that recovered above pre-recession levels.
(WellsFargo/Richmond Fed) June saw significant improvement in the ISM national production and new orders indices, reflecting continued expansion in the manufacturing sector. Click here for more information. For the Mid-Atlantic, including North Carolina, the index did improve in June, though declined significantly in July to -11, driven by lower capacity utilization and reduce order backlog, along with increased inventories in finished goods and raw materials. Regional employment in the sector was flat. Expectations for the remainder of 2013, however, grew and remain stronger than current conditions. Click here for the Richmond Fed District report.
(WellsFargo) Construction spending did fall less than 1% in June, consistent with other observations of an unexpected early summer slowdown. Revised information for earlier months point to a stronger spring. Click here for more information.
Economic Updates
Dr. Woody Hall's updated presentation from the summer conference is now available (click here). You can also check out his presentation from last week's NCLGIA Conference in the embed below:
Wells Fargo's Outlook Videocast for July focused on current conditions and continued domestic recovery:
What's Up with Gas Prices?
Crude Oil prices have surged up 25% compared to last summer. How is impacting retail prices?
Nationally, gas prices are a couple percent higher right now than they were a year ago. North Carolina prices, while increasing significantly compared to earlier this summer, are on par with last summer.
Still, the significant mid-summer increase does have an impact.
Gasoline prices jumped 14 cents per gallon in July, making this the third most expensive summer driving season so far, according to AAA.

The average national pump price took drivers on a roller-coaster ride during the month, surging 20 cents from the summer's lowest gas price so far on July 7 ($3.47 per gallon) to the summer's highest on July 19 ($3.67). In total, the average gasoline price grew 3.9 percent during the month, from $3.49 to $3.63.

Overall, it was the largest monthly increase since February.

"July was a volatile month for consumers with gas prices reeling from the lowest to the highest averages seen in months." said Avery Ash, AAA spokesman. "A combination of expensive crude oil costs, refinery glitches and rising summer demand resulted in sharp price spikes for many motorists."

For the entire month, gasoline averaged $3.58 per gallon, 16 cents higher than last July. Still, the month was less costly for drivers than July 2008 and July 2011, when gasoline averaged $4.06 and $3.65 respectively, according to AAA.

Those also were the years with the most expensive average summer gas prices. The average gas price so far this summer is $3.59 per gallon, compared to $4.04 during the same period in 2008 and $3.67 in 2011.

West Texas Intermediate crude oil hit a 16-month high of $108.05 per barrel on July 19. Crude prices account for about two-thirds of consumer gasoline prices, according to AAA.

"Millions of Americans take long road trips in August and any unexpected production problems can result in serious supply and demand issues," continued Ash. "We often see refinery problems and major hurricanes drive up prices this time of year, which means motorists could be in for a rough time at the pump in the coming weeks if something goes wrong."

The direction of gas prices for the rest of the summer driving season, which extends from Memorial Day (May 27) to Labor Day (Sept. 2), largely will depend on weather and refinery performance, AAA noted. Prices were hit hard in August 2012, when Hurricane Isaac temporarily took several refineries out of operation, causing gas prices to surge 33 cents over the month.

Today, a gallon of regular gasoline averages $3.63 per gallon, 13 cents higher than a year ago. Houston drivers are paying an average of $3.51, up 16 cents from a year ago.
News Notes
(AP/MSNBC) Four of Five Americans live in danger of falling into poverty
(Denver Business Journal) Ford launching CNG-powered F150
(Harvard) Intergenerational Mobility Varies by Region
(TBJ) Want to climb the income ladder? Get out of Raleigh
(NewGeorgraphy) E-Shopping Bubbling While Retail Bums Along
(NewGeography) Raleigh ranked in Top 5 of "Most Aspirational" Cities
Of Interest in History Today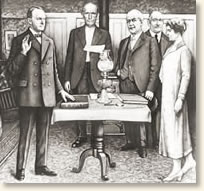 On this day, 90 years ago, Calvin Coolidge was sworn in as the 30th President of the United States following the untimely death of the 29th President, Warren Harding.
Coolidge was vacationing with his parents at their home in Vermont. His father, a Notary Public, administered the Oath of Office in their living room.
From President Coolidge's own account:
On the night of August 2, 1923, I was awakened by my father coming up the stairs, calling my name. I noticed that his voice trembled. As the only times I had ever observed that before were when death had visited our family, I knew that something of the gravest nature had occurred.

He placed in my hands an official report and told me that President Harding had just passed away. My wife and I at once dressed.

Before leaving the room I knelt down and, with the same prayer with which I have since approached the altar of the church, asked God to bless the American people and give me power to serve them.

My first thought was to express my sympathy for those who had been bereaved and after that was done to attempt to reassure the country with the knowledge that I proposed no sweeping displacement of the men then in office and that there were to be no violent changes in the administration of affairs. As soon as I had dispatched a telegram to Mrs. Harding, I therefore issued a short public statement declaratory of that purpose.

Meantime I had been examining the Constitution to determine what might be necessary for qualifying by taking the oath of office. It is not clear that any additional oath is required beyond what is taken by the vice president when he is sworn into office. It is the same form as that taken by the president.

Having found this form in the Constitution, I had it set up on the typewriter, and the oath was administered by my father in his capacity as a notary public, an office he had held for a great many years.

The oath was taken in what we always called the sitting room, by the light of the kerosene lamp, which was the most modern form of lighting that had then reached the neighborhood. The Bible which had belonged to my mother lay on the table at my hand. It was not officially used, as it is not the practice in Vermont or Massachusetts to use a Bible in connection with the administration of an oath.

Besides my father and myself, there were present my wife, Senator Dale, who happened to be stopping a few miles away, my stenographer, and my chauffeur.